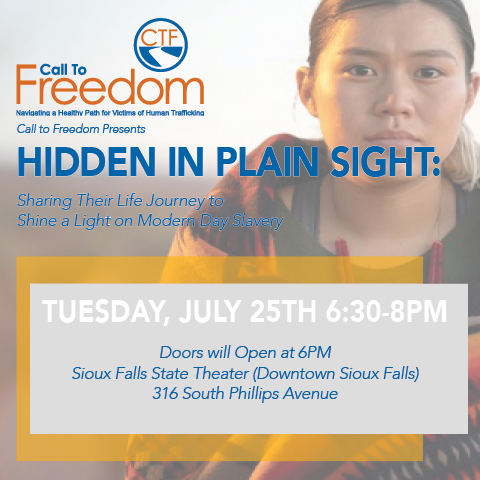 Hidden in Plain Sight
Call to Freedom Presents
Hidden In Plain Sight: Sharing Their Life Journey to Shine a Light On Modern Day Slavery
FREE Event but you must register online as seating is limited!
Location: Sioux Falls State Theater (Downtown Sioux Falls) 316 S Phillips Ave.
Survivors will share their personal journeys to educate and bring awareness on the issue of human trafficking.
Alisa Giorczyk – In addition to holding a master's degree in international relations from Harvard University, Alisa is a member of the OSCE International Survivor Advisory Council, and a member of INTERPOL's Human Trafficking Expert Group, and a member of the Global Association of Human Trafficking Scholars. Her certifications include Certified Human Trafficking Investigator (CHTI), certified in open source intelligence, and a certified trainer in human rights issues. Alisa strives to disrupt criminal networks worldwide by utilizing her voice, cyber knowledge, research, and personal experience. She is driven by a desire to safeguard the population, protect the vulnerable, and bring criminals to justice.
Alia (Dewees) Azariah – Director of Aftercare Development at Safe House Project, Local Programs Manager at Forever Found, member of the California CSEC Action Team's Advisory Board. Drawing from her own personal experience as a victim of trafficking and the commercial sex industry, both as a minor and an adult, Alia is dedicated to never allowing the anti-trafficking industry and related fields to become stagnant. Her firsthand understanding of the challenges faced by survivors informs her approach and fuels her determination to create meaningful change. Throughout her career, Alia has collaborated with over 500 organizations and individuals professionally tied to the anti-trafficking industry. She has engaged with over 160 individuals who have experienced trafficking, providing crucial support in exit strategies and operations. Furthermore, her commitment to education and awareness has led her to train over 35,000 individuals on topics such as identification, service provision, survivor involvement, and other aspects related to human trafficking.
Rita Gail O'Brien, LLMSW – Survivor of familial trafficking and educator in the field of sex trafficking. Rita has a passion for Justice to educate the very communities that she was trafficked from. Professionally, she has done Security, Police Work, Photography, and Journalism and was a House Director at a Sorority at the University of Michigan. Rita got her Undergraduate Degree at Eastern Michigan University and then went on to get her Masters in Social work from Western Michigan University with a Trauma focus. Rita is a Board member of Pearls of Great Price Coalition out of Plymouth MI and is also on the board for Kalamazoo Area Anti Trafficking Coalition. Rita continues to speak out to educate others on how to watch for Human Trafficking in their communities. Rita is the rank of Major in the volunteer organization Civil Air Patrol (United States Air Force Auxiliary).  Rita enjoys helping serve meals at her church at the midweek service. When Rita gets a free moment you will find her anywhere on Lake Michigan, she likes to be at Silver Lake Sand Dunes on a 4- wheeler tearing up the sand with her sons.