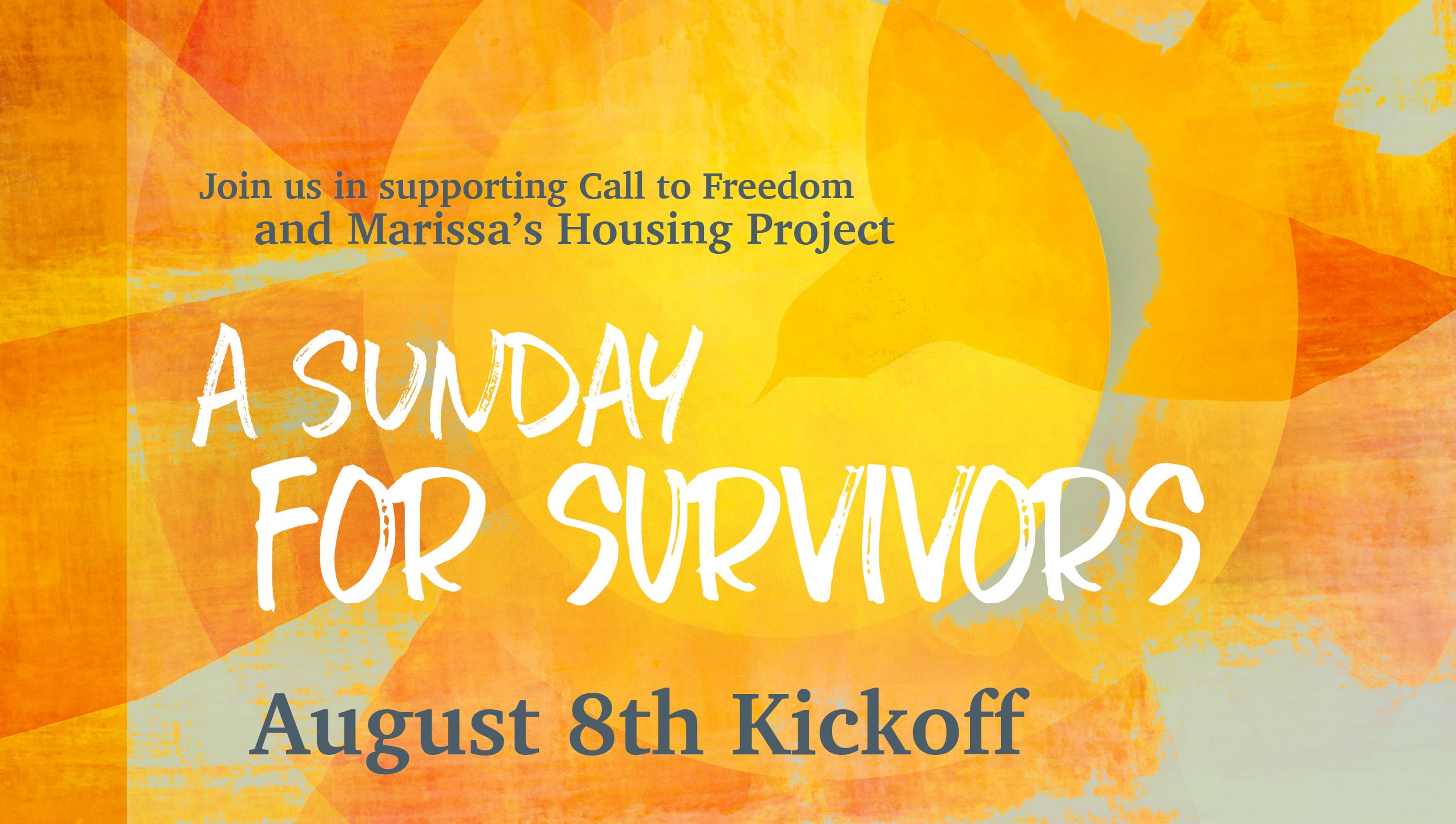 A Sunday for Survivors
[vc_row][vc_column][vc_column_text]Call to Freedom is a trauma-informed organization headquartered in Sioux Falls that provides comprehensive, ongoing, and coordinated support services for survivors of human trafficking. Trafficking survivors need both immediate and long-term care, including safe and secure housing. Marissa's House is the result of Call to Freedom merging short-term housing with its model of onsite support services and a strong network of frontline community partners.
We're asking the Sioux Falls church community to rally around one mission that transcends denomination with the prayer and support of each church and their congregants.
HELP US CHANGE LIVES!
The impact of the church community raising awareness and support of anti-human trafficking would be transformative for survivors and for how the work is viewed in the community.
DONATE | VOLUNTEER | PRAY
https://calltofreedom.org/human-trafficking/marissas-project/marissas-supportive-housing-project-expansion/
For more information, contact
Monica Rilling
Community Engagement Coordinator
Phone: 605-799-6153
Email: [email protected][/vc_column_text][vc_raw_html]JTNDaWZyYW1lJTIwc3JjJTNEJTIyaHR0cHMlM0ElMkYlMkZ3d3cuZmFjZWJvb2suY29tJTJGcGx1Z2lucyUyRnBvc3QucGhwJTNGaHJlZiUzRGh0dHBzJTI1M0ElMjUyRiUyNTJGd3d3LmZhY2Vib29rLmNvbSUyNTJGY2FsbHRvZnJlZWRvbXNkJTI1MkZwb3N0cyUyNTJGNDIyMzgzNTA3MTA2MzE1NyUyNnNob3dfdGV4dCUzRHRydWUlMjZ3aWR0aCUzRDUwMCUyMiUyMHdpZHRoJTNEJTIyNTAwJTIyJTIwaGVpZ2h0JTNEJTIyNTMxJTIyJTIwc3R5bGUlM0QlMjJib3JkZXIlM0Fub25lJTNCb3ZlcmZsb3clM0FoaWRkZW4lMjIlMjBzY3JvbGxpbmclM0QlMjJubyUyMiUyMGZyYW1lYm9yZGVyJTNEJTIyMCUyMiUyMGFsbG93ZnVsbHNjcmVlbiUzRCUyMnRydWUlMjIlMjBhbGxvdyUzRCUyMmF1dG9wbGF5JTNCJTIwY2xpcGJvYXJkLXdyaXRlJTNCJTIwZW5jcnlwdGVkLW1lZGlhJTNCJTIwcGljdHVyZS1pbi1waWN0dXJlJTNCJTIwd2ViLXNoYXJlJTIyJTNFJTNDJTJGaWZyYW1lJTNF[/vc_raw_html][/vc_column][/vc_row]