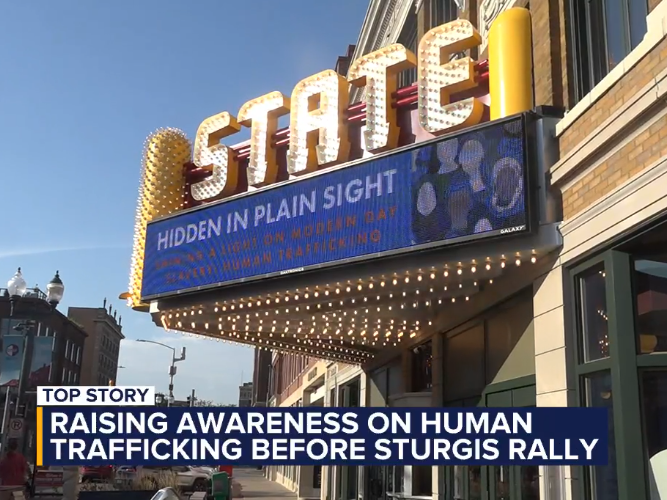 SIOUX FALLS, S.D. (Dakota News Now) – Survivors of human trafficking shared their stories at Call to Freedom's "Hidden in Plain Sight" event.
Call to Freedom is an organization that works to raise awareness of human trafficking while helping to navigate a healthy path for victims of human trafficking.
At tonight's event, victims shared their stories hoping to help others.
Alia Dewees Azariah is a survivor of human trafficking and was a speaker at the event.
She shared why awareness is so important.
"Community members don't understand the value that they can have. We see people who are trafficked in our schools, in our hospitals, we see them at our churches," said Alia Dewees Azariah, speaker at event.
She also discussed why the Sturgis Motorcycle Rally has a large potential for human trafficking to occur.
"The Super bowl brings in about 60,000 people, Sturgis brings in about 500,000 people over ten days, and yet we do not have a response for trafficking. Anywhere you have people gathering there is going to be a higher increase in trafficking," said Azariah.
CEO of Call to Freedom, Becky Rasmussen shared some signs people can look out for while at the rally to identify potential victims.
"Looking for somebody who is not dressed appropriately for their environment, also looking at if someone is fearful and in a controlled environment., if they are not making eye contact with you," said Becky Rasmussen, Call to Freedom CEO.
Discussing some efforts Call to Freedom will be part of during the rally.
"The SOAP project is actually putting materials within RV centers, within camp stops, within hotels, anywhere where survivors maybe staying, there's a number for them to call but also they're going to be listing missing kids so we can better identify f there's potential victim in that area," said Rasmussen.
South Dakota attorney general Marty Jackley shared what the state will be doing to assist in safety at the rally.
"We will have a presence and we will be working to address those issues, certainly we have had human trafficking increases across the nation. We had the first ever training at the Attorney general's Office about a week ago. So, we are centering upon those types of activities that we know are put there and we can make a difference on," said Marty Jackley, (R) SD Attorney General.
If you see anything suspicious that looks like human trafficking, Rasmussen says you can reach out to local law enforcement or the National Human Trafficking hotline.
Copyright 2023 KSFY. All rights reserved.