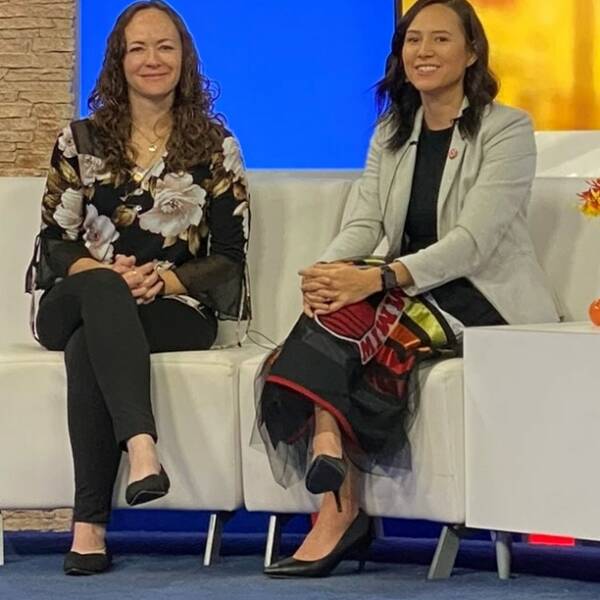 By Steve Young, for Pigeon605
In a world where the missing, the murdered and the trafficked have become all too common of a storyline, South Dakota has hired two women – Allison Morrisette and Mary Beth Holzwarth – to help rewrite the narrative in this state.
Morrisette, an Oglala Lakota tribal member, began working within the state attorney general's office in late 2022 on Missing and Murdered Indigenous People, or MMIP, investigations. The South Dakota Missing Persons Clearinghouse lists roughly 130 missing people in the state – a number that is fluid, always changing. Wherever it lands, it's not uncommon for between two-thirds and three-fourths of those cases to involve indigenous people – a culture Morrisette knows and understands well.
Holzwarth started at the same time as Morrisette and is coordinating investigations into human trafficking. Part of her work involves building on the efforts of various survivor networks for those who've been trafficked. In that vein, she knows too the trauma experienced by victims of abuse; the two oldest of her four sons were sexually abused by a relative as young boys.
Certainly, the two women face what many might view as an insurmountable task. But South Dakota Attorney General Marty Jackley lauds the impact they had in this state before they were hired – Morrisette in the adult diversion program at the Pennington County state's attorney's office and Holzwarth as an advocate for victims of child sex abuse and as a reentry coach for women preparing to leave prison in Pierre.
As such, he's confident that his predecessor, interim Attorney General Mark Vargo, hired the right people when he put Morrisette and Holzwarth into their new positions.
"When they would walk into the room, I knew who they were, and I knew their work," Jackley said. "I do my homework. I asked other people that I trusted and knew. I liked what I heard about them."
The pair comes with diverse educational credentials – Holzwarth has a criminal justice degree; Morrisette's background is in information technology. But perhaps the more compelling part of their stories is the life experiences they bring to the job.
Personal pasts
Morrisette grew up in Martin, tucked between the Pine Ridge and Rosebud reservations in southwest South Dakota, where she filled her youth with sports like basketball, softball and track. "My mom would get mad when I came home from school," she said, laughing, "because I would always be joining another club or another activity."
That love of competition has followed her to Rapid City, where she continues to play basketball in city leagues or to work out at the gym. But childhood was more than a series of sporting events for Morrisette. She experienced the challenges of tribal life first-hand, too, and the racism that played out when friends' parents wouldn't let their daughters spend nights at Morrisette's home in the tribal North Housing at Martin.
"In the day and age when I grew up, it wasn't cool to live in the North Housing," she said. "So I experienced that. But I also come from a large, extended family that ensured me that being Native is a blessing. They definitely helped guide me through those challenges."
Holzwarth said she "grew up pretty much everywhere," though she called Wyoming home for the most part. In her youth, she recalls fondly how her mother handled hay production on a ranch in Glendo, Wyoming, while her daughter helped to move cattle and train horses.
"I do really miss that life," Holzwarth said. "It was a great way to grow up."
In the years since, she said she has done it all – from tiling to roofing, carpentry to hospitality, cooking and waitressing. She was an interpreter for the deaf. She worked in Extension and in driver's licensing. At one point, she had a business boarding pets, even grooming and training dogs. To stay grounded through it all, she developed a yen for hiking – from trails throughout Wyoming, Colorado and the Black Hills to Machu Picchu in Peru.
"The Black Hills, Peru … those are my happy places," she said.
Holzwarth moved to Gettysburg with her first husband 19 years ago. In 2018, she opened a roastery there called Globetrotter Coffee. It made sense, she said; she pretty much fueled her days living off coffee anyway. Besides, Gettysburg didn't have a lot of full-time career opportunities. And as it was, she had a sister working at a coffee roastery in Wyoming who had a lot of knowledge to share about the possibilities.
"I was hoping that it would someday become an income stream," she said. "Now, I just have an expensive hobby. But I still love to do it."
Her pivot from a jack-of-all-trades to advocacy work in the world of child abuse – and eventually in human trafficking – unfolded in 2009 when her two sons disclosed that they had been sexually abused by a relative. After sentencing in the case, a mother from Rapid City reached out to her and asked how her family had received justice. The question left Holzwarth dumbfounded. She knew child abuse existed, but just how much was this happening?
"I didn't realize how frequently kids were being sexually molested," she said. "When I began digging into that, I went to my boys, and I said, 'You guys … this is happening all the time. Like it wasn't just you.' And my 5-year-old said … 'Well, Mom, you have to do something. You have to make it stop.'"
Holzwarth said she was not going to look into her child's eyes and tell him she was too busy, or it would take too much time, or it would cost too much money. In fact, just maybe this was a way for her sons to turn their pain into a passion and give purpose to their story. So, for many years, with their permission but without using their names, she told those stories and shined a light on the issue.
She started an advocacy effort she called Endeavor 52, with a mission of ensuring justice and healing for children and their families while at the same time spreading awareness and working to prevent sexual abuse. She also jumped onboard the efforts of the Jolene's Law Task Force, named after Jolene Loetscher, a victim of sexual assault as a teenager, in the mid-2010s.
That task force helped bring about the Center for Prevention of Child Maltreatment at the University of South Dakota. With Holzwarth's help, it also established the Respond, Education, Advocate, Counsel and Heal, or REACH, Center in Watertown, a one-stop, multidisciplinary effort to investigate cases of child sexual abuse without victims and their families having to shift from place to place and person to person.
Looking back now, Holzwarth is convinced this path and mission for her family were meant to be.
"Faith is very important to me, and I don't believe God allowed this to happen because he wanted us to go through this so we could change the world. That's not how it works," she said. "But we do live in a world with free will, and unfortunately bad things do happen. And when it did happen, we made that choice to let it be a way for us to reach out and give hope to others."
For Morrisette, the work of coordinating efforts to investigate Missing and Murdered Indigenous People cases and to assist victims and their families as well is also personal. Andre Starr, a young man roughly her age that she knew from her days at the Red Cloud school north of Pine Ridge, went missing last October and was found dead 38 days later near Oglala on the reservation.
She also had a cousin, Vincent Brewer III, who was murdered In October 2016 in a case related to drugs. Brewer, a standout basketball player on the reservation, was somebody she looked up to as she pursued her own basketball dreams.
"When Vinny got murdered, it was definitely devastating to my family," she said. "So I can tie into the emotional side. That's something I want to emphasize … letting people know that each case, each individual case whether they are missing or murdered, I'm going to treat like a relative because I've been through it, and this is somebody's uncle, aunt, cousin, even a grandparent maybe."
She's passionate about it as well because she has a 19-year-old sister, Aleigha, whom she loves and worries about, and because the percentage of the missing in South Dakota is so heavily tilted toward tribal people.
Having spent six years with the Army National Guard's 842nd Engineer Company out of Belle Fourche, Morrisette said she encountered real-world experiences that her sister hasn't. She had her eyes opened to the dangers that exist. She believes that her sister, whose skin tone is darker than her own, is potentially vulnerable.
"If she and I were walking in an area where somebody's targeting minorities, she would be the first one snatched versus myself, even though we're both Native American," Morrisette said. "It's just something I preach to her all the time since she was young. Just knowing that minorities, whether you be Native American, African American, Hispanic, anything … we're at a higher risk. I tell her, 'Always be alert, and don't be naïve to situations.'"
Indeed, a rural state like South Dakota is not immune to the ugly side of humanity, Holzwarth confirms. Having finished her criminal justice degree early in 2019, she was hired as a contract employee through Lutheran Social Services to work as a reentry coach at the women's prison in Pierre – guiding inmates through the Moving On program to heal from trauma and to re-create their lives before being released.
"I would say most of the women ended up there because of trauma they had experienced earlier in their lives," Holzwarth said. "It's not an excuse for their behavior, and I would often tell them that. But it is a reason.
"So during my time at the women's prison, I met these women who had experienced a tremendous amount of child sexual assault or other forms of childhood trauma. And those situations in their lives … leave them very vulnerable. And unfortunately, that vulnerability often is exploited."
New roles take shape
In dealing with MMIP and trafficking cases that are often intertwined, Morrisette and Holzwarth insist they will benefit from connections they've already made through their work in the Pennington County state's attorney's office, the women's prison and Holzwarth's advocacy efforts.
They've spent their first months on the job traveling the state, meeting with local, county and tribal law enforcement agencies, nongovernment organizations and community members. Already, law enforcement has asked for more training on those issues. They see opportunities as well with medical staff members to be better trained on how to identify trafficking victims when they come into medical facilities. And school and community organizations dealing with trafficking issues have asked them to present on how to be safe on computers or on social media apps.
"There's a lot of knowledge out there, but there's a lot of desire for even more," Holzwarth said. "Unfortunately, we know that trafficking within families and by close friends is a significant issue across the state. Most of what we see is someone being known by the victim and exploiting what they know as a vulnerability."
Jackley applauds the local, collaborative efforts they are nurturing. He has emphasized to Morrisette that the state's missing persons database is a good way to bring awareness to the problem. It needs to be accurate, up to date, and people need to be looking at it, he said.
"We want to bring more value to that because many of the crimes in South Dakota are solved with input from the public," he said. "Part of that is making sure the database is up to date, that we're getting names off that need to be off and reviewing that constantly, promoting it constantly."
Likewise, making connections and building trust with stakeholders is imperative, he said. Public outreach is a key part of that. To assist the two women, his office has put in place an MMIP Advisory Council to help define the work and set goals and a Jurisdictional Cooperation Commission to help understand jurisdictional boundaries and issues.
"Basically, my main goal then is if someone has a loved one who has gone missing and they do have questions, whether it's jurisdictional questions, how to report or who to report to, to give me a call, and then I can link them to the right people," Morrisette said.
And how will they measure success? Again, no one expects the problems of missing or murdered indigenous people, or those being trafficked, to magically go away.
It likely will be a lot of small victories, Jackley, Morrisette and Holzwarth agree. After her sons were abused, they measured success when there was less frustration when it came time to do homework or when more days passed without tears, Holzwarth said.
"To be honest, I'll know we're making progress when we have more victims coming forward," she said. "Or where we have more education enabling some of these cases to be brought to justice and have prosecutions happening."
Progress is happening when they can go back to some of those victims and say: "How are you doing today? Do you feel like you're progressing in your healing?" she adds. "If more and more of them are able to say 'yes,' then I know we're making gains."
For Morrisette, it's less a question of succeeding and more one of making a difference.
"Justice looks different in everybody's case," she said. "It comes in different forms for people, and closure comes in different forms as well. If I can help one family, whether it is bringing closure or bringing justice, or even changing the perspective of how the Native community sees law enforcement, that's success in my eyes."
There's no scorecard that goes with this work, Jackley said. But he'll know how they're doing as he talks to judges, prosecutors and sheriffs. When the Rotary Club president in small-town South Dakota calls him and tells him about the great presentation the women just gave, he'll know.
"We're going to do everything we can to make these successful positions," he said. "We're going to make it possible for them to succeed. And in doing that, I really believe it will make a difference here in South Dakota."